SUNCOM Industries is a nonprofit, human services agency, which helps people with developmental and physical disabilities improve the quality of their lives. Our goal is to provide the vocational training and skill development for individuals to grow to their fullest potential.
Our services support, educate and empower people with disabilities to be employed and live full and independent lives filled with everyday joys and accomplishments.
People with developmental and physical disabilities also dream of having a job, a social life with friends and coworkers, and being independent, no different than your own dreams. SUNCOM offers people with disabilities the opportunity to achieve these goals and live their dream.

Suncom's 30th Annual Golf Tournament
"The Blair Judy Classic"
At Frosty Valley Country Club, Danville, PA Monday, June 19, 2017

May 5th was Suncom's 50th Anniversary!!!

_ _ _ _ _ _ _ _ _ _ _ _ _ _ _ _ _ _

Suncom received $20,000 grant from PPL towards a purchase of a new truck to "Put Us to Work!". THANK YOU PPL.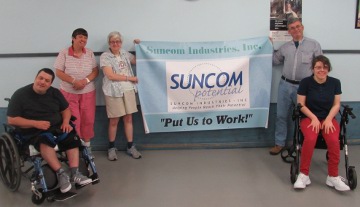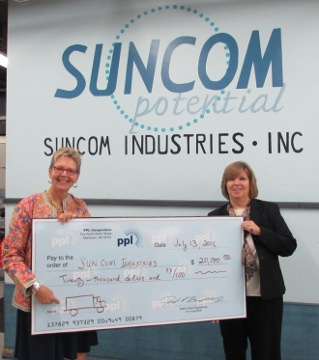 Check out our most recent Sunlight!


One of the great success stories of the CIES program is the story of Ed C. Ed was born with mild mental retardation, psychosis anxiety disorder and
Tourette's Syndrome.

>> read more